The most unusual benefit of riding or skiing at Heavenly Mountain Resort may be the views you get even before take your first run of the day.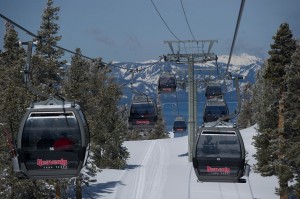 (Photo credit: Heavenly Mountain Resort)
What you see in the background is Lake Tahoe, one of the great alpine lakes in the world. It's about 22 miles long and 12 miles wide. It's in class with the Turnagain Arm (Alyeska, Alaska) and Lake Superior (Lutsen, Minnesota). It will often, though not always, be visible to you as you start your descents.
The natural beauty of the lake contrasts with the neon of the casinos in nearby Stateline, Nevada. But if you stay there, you have a short walk to the gondola. The Embassy Suites, in California, is even closer. Once you're on the gondola, be sure to stop at the mid-way station to soak in a view before starting your day.
Once your ride on the gondola ends, you'll have plenty of choices, since the mountain sprawls out for over 4,800 skiable acres, more than just about any resort out there. (Mammoth, Vail, and Powder Mountain are bigger). For the most difficult terrain, pass through the gates at Mott and Killebrew canyons, as well as nearby Milky Way Bowl. If you like intermediate cruisers, the runs serviced by the Dipper Express are good; you can also make your way over to the Comet Express, if lines at the Dipper are too long for your taste.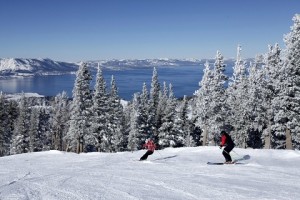 (Did I mention there are lake views? Photo credit: Heavenly Mountain Resort)
Beginner's runs are few and scattered across both the Nevada and California sides, so if you're a novice, your choices may be limited. (Complete newbies should head straight for the California Lodge.)
There are of course several lodges on the mountain. The Tamarack Lodge, near the top of the gondola, is the most recent. From 3:30 until 5:30, the place hosts "Unbuckle" an apres-ski/ride party with DJs, music, and dancers known as "Heavenly Angels."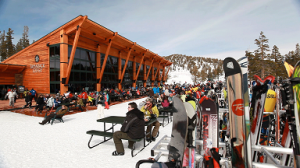 (Photo credit: Chris Stamey, via Heavenly Mountain Resort)
Nearby terrain serves as a ski school for children, as well as the site of a tubing area. You may even meet "Ripperoo," the resort's official mascot.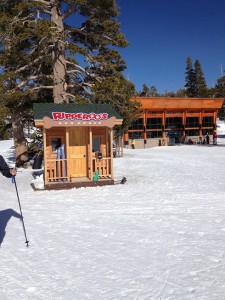 Snowboarders, take note
Most ski areas have spots that are difficult for snowboarders, and Heavenly is no exception. For example, the Sky Express lift takes you to 10,040 feet, which is roughly in the middle of the mountain, on an east-to-west basis. From the top, Skyline trail takes you over to the Nevada side. Be warned, however: For quite a ways, it is relatively flat, meaning that you may need to unbuckle and walk for a while. You may also have the same problem, though on a smaller scale, if you head over to the Nevada side from the top of the Big Easy lift, which serves a short beginner's slope near top of the gondola.
Getting home
One odd thing about Heavenly is that you can't ski or ride down to the base–at least if you want to stay in bounds and on the good side of the management. You have two other choices. The first is to download, which is to say, take the gondola back down at the end of the day. The second is to ski or ride down to one of the several non-gondola bases and then wait for a shuttle bus. The bus works just fine, but you may find yourself stuck with nothing to do for 20 or 25 minutes to do. For example, the Stagecoach parking lot features a repair shop and … nothing else.
Lodging
Want to go skiing or snowboarding, be within walking distance of a major ski area, and pay a modest price? Try a casino in South Lake Tahoe.
For me, the casino is a bug, not a feature, but your mileage may vary. When you stay at a casino, you have to put up with a few things, including two obvious facts: The rooms aren't necessarily built for creature comforts, and the hotel design is meant to encourage you to wander through the gaming floor.
In my case, I stayed at Harvey's Lake Tahoe, a short distance (0.4 miles, according to Google Maps) from Heavenly ski area. It is the oldest casino of those still running today, and offers several restaurants, a fitness center, meeting rooms, and the Improve Comedy Club. If you're so inclined, it also has a wedding chapel. In conjunction with nearby Harrah's (same ownership), it has concerts. (This season: George Thorogood & the Destroyers; Paul Revere & the Raiders; Blue Oyster Cult; Chickenfoot; and others.) Nearby MontBleu also has concerts. While I was there, the group 311 (I have to confess: I have no idea who they are) was playing.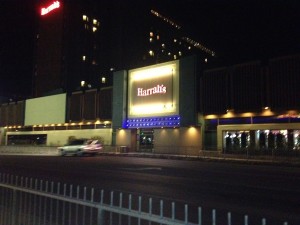 Dude, where's my coffee maker?
At least for me, the primary purpose of a hotel is to sleep when I'm not on the snow. So how was Harvey's on that score? The room itself was adequate but it left a lot to be desired. The carpeting was very much worn down, to the point where I felt uncomfortable walking in bare feet.
Much of what I noticed about the room, however, was what it lacked, such as a variety of easily accessible electrical outlets. I could get to the set behind the headboard, but another, behind a very heavy dresser, was out of reach. There was no desk, so I put my computer and iPhone on the vanity that was part of a make-up area just outside both the water closet and the bath/shower room. Though there was a small refrigerator (not polluted by a mini-bar, hooray!), there was no coffee maker to be found. Many hotels that have on-site restaurants have in-room coffee makers, so I don't know why Harvey's doesn't have them. Finally, you could tell that this wasn't a ski-area room by the fact that there were no pegs on the walls. I kept looking for a place to rest my snowboard and helmet.
My standard room was in the Lake Tower; from looking at the virtual tour on the website, I'd suggest you try getting a room in the Mountain Tower, as the rooms there appear to be brighter. (My room had quite "heavy" furniture and decor.)
What went right
Now, there was a lot right about the hotel. The king-sized bed was fine, with four nicely sized pillows. The flat-screen TV was nice, though the remote control was a bit balky. Housekeeping did their job well, and there was a decent view of Lake Tahoe from the window. Check-in and check-out was fine, and the staff was effective and professional in replacing a room key after I accidentally locked myself out. Oh, and the elevators were adequate, too–useful when you're staying on the ninth floor. If you have young teenagers, set them loose on the arcade, which is one level below the lobby.
If you're looking for something more affordable than, say, Aspen's Hotel Jerome, a casino might work for you. Right now, Harvey's is advertising, on its website, the following: $69 buys a room and $25 in food credit. (Note, however, that you can't guarantee a non-smoking room, and you can't use the meal credit at on-site restaurants that are not owned by Harrah's.)  You can also get a 5 percent discount off a full-price adult lift ticket at Heavenly, Northstar, Sierra-at-Tahoe, Kirkwood, or Squaw Valley.  Nearby casinos, such as MontBlue, also offer deals and reasonably priced accommodations. But if you're looking for an even better deal, you can probably find it. Look to Liftopia for tickets, or try the Motel 6 a few miles down the road for lodging. (Be sure to check on bus routes from the Tahoe Transportation District, though.)
How is Harvey's like a grocery store?
One place that Harvey's excels is its location: It's three blocks from the Heavenly Mountain gondola. (Snowboarders definitely have an advantage over skiers in the walking department.) But remember how, when you go to the grocery store in search of a gallon of milk, you have to walk through everything else to get there? Harvey's is like that: If you're walking back to your room from the Heavenly gondola, you'll find that the sleeping rooms are as far away as they possible can be while still being on the property. Go the casino floor, and you'll run the gantlet of lights and sounds coming from the machines. As an alternative, you can bypass the first entrance you get to and keep going on the sidewalk until you hit a driveway on the left. Walk downhill until you find the valet entrance, and you're almost at the Lake Tower elevators.
Summing up
Even party animals have to catch some sleep sometime. If you like the nightlife, you might do well at one of Stateline's casinos. But if you're not, don't let the "wild scene" of Tahoe scare you off. There are other options–though neon signs may not be your preferred apres-ski/ride sights.