"My [son/sister/friend] is a snowboarder. What should I buy them for Christmas?" If you've ever wondered that, this guide is for you. It focuses on items that are easy to buy, meaning you most likely won't make a mistake by buying something in the wrong size or color. Most of the items have the benefit of being inexpensive. If that makes you feel cheap, then buy several of them and combine them into a package of things that can make the snowboarding life a little more pleasant.
Neck gaiters. A neck gaiter protects your neck and face from the abrasive and numbing effects of the cold wind that is generated by snowboarding. Gaiters are soft pieces of fabric (usually polyester or wool) are like a sleeve for your head. They're cheap but quite valuable on a cold or windy day. A rough price range if $7 to $30.
Hand warmers and toe warmers. If your hands and feet are not happy, you're not going to be happy. They cost about a dollar a pair, more on the mountain. Buy a box, and your snowboarder may be set for the season.
Energy bars. The Clif bar may be the most widely known brand in this space, at least in the U.S., but there are others. You can (again) save by buying in bulk, but even when purchased one at a time, they're cheaper than a typical meal at a ski area. Price: $1 each, with boxes priced accordingly.
Toenail clippers. If you're repulsed by the thought of giving (or getting) toenail clippers as a gift, you may have never experienced the discomfort that comes from having toenails that have turned purple and painful from brushing up against the inside of a snowboarding boot for a day. Sure, you should tend to your feet when you're at home, but if you notice when you're booting up that the nail on your big toe is longer than it should be, you'll be happy to have a pair of clippers in your to-go bag. Price: Around $5.
Sunscreen. Though snowboarding takes place during the time of cold temperatures, a sunburn still ruins your day. As a benefit, sunscreen can help your skin from getting dry and flaky from the cold dry air of winter. Price: About $10.
Lip balm. Sometimes comes with sunscreen. Price: $3-5.
Sunglasses. For those who don't wear goggles, sunglasses can make a big difference in a day on the slopes. Buy a pair for a spare to keep in the car. Price: Varies.
Volleyball kneepads. For some people, kneepads are a great choice for a mid-mountain rest. (The alternatives are sitting, standing with both feet locked in, or taking one foot out of a binding.) Kneepads make kneeling more comfortable by providing a cushion. They're relatively cheap. They're also easy to find. Look look at the sporting goods department of Target or a similar retailer. Price: $10-$20.
A folding chair and a carpet remnant. Booting up in the parking lot rather than taking everything into the lodge has certain advantages. There's less stuff to carry inside, for example. It's going to be easier to put boots on while sitting down. A carpet remnant (or an old piece of cardboard) beats a snowy or muddy parking lot as a place to rest your feet when putting on boots. Price (chair): $10-20 at a Target or Wal-Mart, or $2 at a garage sale.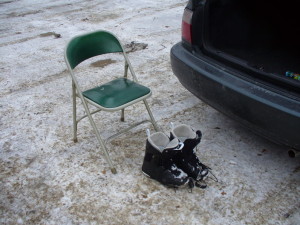 Windshield scrapers. Besides the obvious utility for people who live in regions where frost is a feature of winter, a windshield scraper can be used in the process of applying wax to a snowboard. Price: $2-10.
Small screwdrivers. The screws on a snowboard binding can work themselves loose, resulting in a loss of control. Careful snowboarders check their bindings on a regular basis. Most ski areas have screwdrivers on hand, but it's useful to carry a small screwdriver with you in case you notice some unintentional swiveling on the mountain. A small pocketknife might suffice, if it has the right kind of screwdriver (usually a Phillips) of the right size. Specialized tools cost about $5 to $20, with more-expensive models having other tools such as an Allen wrench or knife (for scraping ice off binding plates.)
More ambitious purchases
We put these next items in the "more ambitious" category, primarily because they require some knowledge of the snowboarder's physical dimensions or preferences.
Socks. This is a bit of a reach for this list since you'll need to take an educated guess on the size of your snowboarder's feet. In addition to socks having different lengths, they have different thicknesses, which is a personal preference. Price: $15 to $25 a pair.
Belt. It keeps your snow pants up, and it's in this section of the list because, no surprise, you need to know what size to buy. It's possible to use a belt that is in service for everyday use. But it's handy to have one belt that can stay with the snow pants. Price: $10 and up, or less at a garage sale or thrift store.
Battery park for the cellphone. Cellphones have become a fact of life on the mountain. But cold winter temperatures can be brutal on phone batteries. A spare battery or a battery charger can help you keep track of your vertical distance traveled, take photos, or even, well, make a phone call. You'll need to know if the intended recipient has an Apple or an Android phone. Cost: $10 and up.
If you've given up
If you've given up on buying a specific item, some ski areas sell gift cards that can be used for lift tickets, food, and other purchases.