When you live outside the sunbelt, the winter that falls on the resorts also falls on your driveway. So this winter I've had, well, not a love-hate relationship with snowstorms. Let's just say that each storm brought some sighs on my part: So much snowy goodness falling on the slopes, but so much to rake from the roof and shovel from the driveway.
For the last few winters I've tried dumping snow in one corner of the front yard. For two years I tried to make it into a sledding hill. That didn't work out too well, as the snow never compacted enough, nor did the hill ever get large enough.
This season I decided to try a quinzhee, which is a simple form of an igloo for people who don't have masonry skills. Rather than shape snow into blocks that are then carefully put into place, a quinzhee relies on a simpler technique: Shovel, and then dig. That is, pile all the snow into one place, dig an entrance, and then hollow out the pile from the inside.
It's something that is best done in teams, but for the most part I did it alone. I did create a space large enough where I could recline (chaise-lounge style), with a few feet of headroom above me.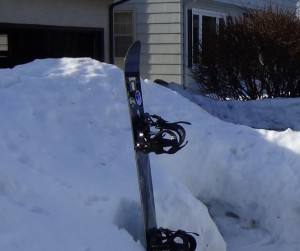 Working (or playing) with the snow in this way is a good idea to see up front how snow changes over time and with changes in the temperature.
On the agenda for next winter: Make it into more of a rounded shape–and buy a snowblower!
If you're so inclined, you can find plenty of instructions online on how to build one of these.