While snowboarders represent 25 to 35 percent of all visitors to ski areas, their numbers vary from region and even resort to resort. The gold standard for these numbers is the Kottke National End of Season Survey, a product of the National Ski Areas Association. It's a thorough product, but it costs $200 for nonmembers, so I haven't seen a copy of it in years.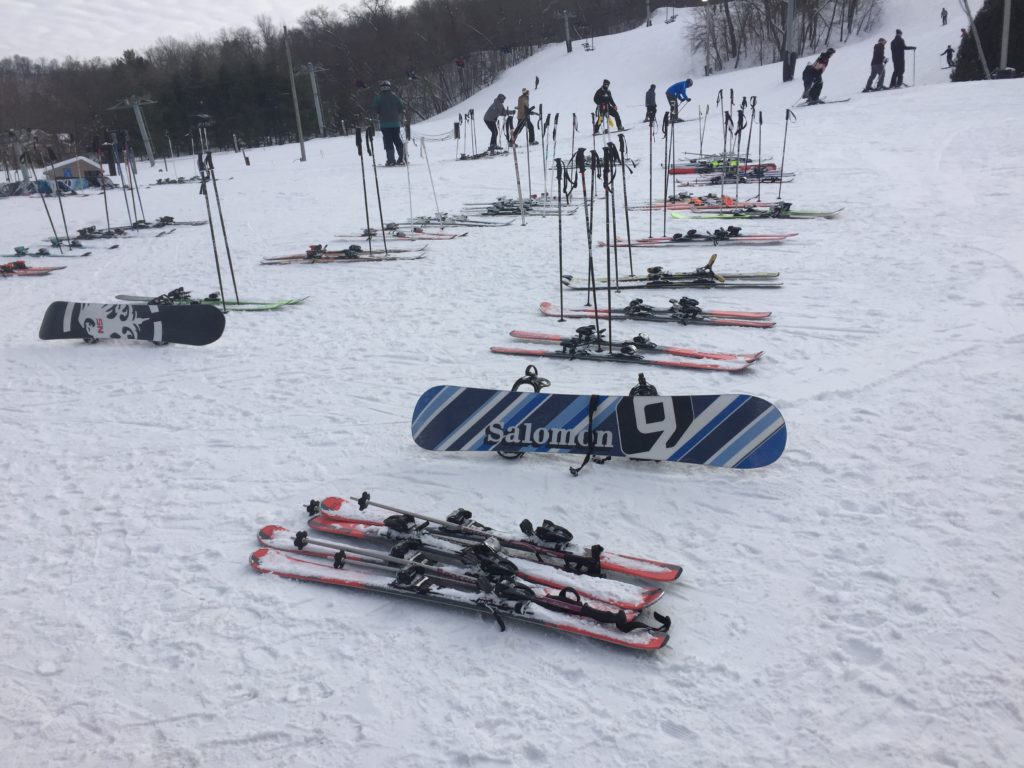 The other day I was looking at my stats on Trace. It's a phone-based app that tracks your vertical distance, miles traveled, and so forth, but there's also a web-based version that lets you look at resorts across the world. From it, you can get an overview of the people who use Trace at a particular resort. Vertical distance. Top speed. Average speed. That sort of stuff. And, surprisingly, the percentage of users who are on skis or on a snowboard.

And when you look at lots of different resorts, you see that snowboarding is more popular at some resorts than at others. At Mt. Crescent, Iowa, 92 percent (as of this date) of Trace users are on snowboards. On the other end of the scale, only 9 percent of the Trace users at Wild Mountain, Minnesota, are snowboarding.
I constructed a list of 110 resorts from across North America. Some are there because they are the most popular on the continent, others are there to represent various places where resorts can be found. So the list may have some biases in what's included and what's not, but it does capture much of what's going on in the industry.
There are two other notes that may limit the validity of this data. One is that the people who use Trace may not necessarily be a representative sample of the skiing/riding public. That is, the people who use Trace may be more likely (or less likely) to be skiers (or riders) than the overall snow-sliding public. Another limitation is that the phones on which Trace runs can't detect whether a person is on a board or on a set of skis. It's up to the user to set that information, and what the person does may change from visit to visit. So someone who sets up his profile as a skier may sometimes be on a snowboard, someone who sets up her profile as a snowboarder may sometimes be on skis.
With those caveats in place, it's time to roll out the numbers. They're arranged, loosely, by geographic region. At the average resort in New England, less than 25 percent of Trace users were snowboarders, but the number in the western U.S. and Canada is over 40 percent. The percentages for the eastern U.S. and Canada and the U.S. Midwest are in between.
Skiers or riders?
Source:
Trace app
Feb. 2019
Resort
Location
Ski
Ride
Region
Saddleback
Maine
80
20
New England
Sunday River
Maine
78
22
New England
Sugarloaf
Maine
84
16
New England
Shawnee Peak
Maine
78
22
New England
Loon Mtn
New Hampshire
74
26
New England
Cannon Mtn
New Hampshire
82
18
New England
Mt. Sunapee
New Hampshire
84
16
New England
Dartmouth
Skiway
New Hampshire
92
8
New England
Wildcat
New Hampshire
75
25
New England
Stowe
Vermont
65
35
New England
Killington
Vermont
65
35
New England
Okemo
Vermont
73
27
New England
Stratton
Vermont
65
34
New England
Jay Peak
Vermont
62
38
New England
Wisp
Maryland
60
40
East
Belleayre
New York
72
28
East
Gore
New York
77
23
East
Whiteface
New York
63
37
East
Hunter
New York
60
40
East
Holiday Valley
New York
77
23
East
Beech
North Carolina
58
42
East
Cataloochee
North Carolina
44
55
East
Sugar Mountain
North Carolina
49
51
East
Blue Mountain
Ontario
59
41
East
Blue Mountain
Pennsylvania
54
46
East
Camelback
Pennsylvania
55
45
East
Jack Frost
Pennsylvania
58
42
East
Big Boulder
Pennsylvania
31
69
East
Seven Springs
Pennsylvania
80
20
East
Mt. Tremblant
Quebec
71
29
East
Le Massif
Quebec
70
30
East
Timberline
West Virginia
55
45
East
Snowshoe
West Virginia
55
45
East
Chestnut
Illinois
63
37
Midwest
Sundown
Iowa
77
23
Midwest
Mt. Crescent
Iowa
8
92
Midwest
Boyne Mtn
Michigan
86
14
Midwest
Mt. Brighton
Michigan
78
22
Midwest
Marquette Mtn
Michigan
90
10
Midwest
Mt. Bohemia
Michigan
60
40
Midwest
Mt. Ripley
Michigan
39
61
Midwest
Lutsen
Minnesota
77
23
Midwest
Hyland
Minnesota
57
43
Midwest
Buck Hill
Minnesota
65
35
Midwest
Welch Village
Minnesota
84
16
Midwest
Afton Alps
Minnesota
68
32
Midwest
Wild Mtn
Minnesota
91
9
Midwest
Granite Peak
Wisconsin
70
30
Midwest
Whitecap
Wisconsin
65
35
Midwest
Devil's Head
Wisconsin
46
54
Midwest
Cascade
Mountain
Wisconsin
78
22
Midwest
Wilmot
Wisconsin
65
35
Midwest
Alyeska
Alaska
65
35
West
Lake Louise
Alberta
49
51
West
Arizona
Snowbowl
Arizona
30
70
West
Sunrise Park
Arizona
28
72
West
Whistler
Blackcomb
British Columbia
42
58
West
Sun Peaks
British Columbia
54
46
West
Fernie
British Columbia
43
57
West
Kicking Horse
British Columbia
49
51
West
Mammoth
California
49
51
West
Squaw Valley
California
61
39
West
Bear Mtn
California
26
74
West
Kirkwood
California
42
58
West
Northstar
California
42
58
West
Snow Summit
California
37
63
West
Vail
Colorado
60
40
West
Arapaho Basin
Colorado
57
43
West
Keystone
Colorado
47
53
West
Breckinridge
Colorado
60
40
West
Copper
Colorado
58
43
West
Steamboat
Colorado
67
33
West
Buttermilk
Colorado
52
48
West
Aspen Mtn
Colorado
78
22
West
Aspen
Highlands
Colorado
66
34
West
Snowmass
Colorado
65
35
West
Winter Park
Colorado
73
27
West
Beaver Creek
Colorado
66
34
West
Sun Valley
Idaho
90
10
West
Bogus Basin
Idaho
63
37
West
Tamarack
Idaho
71
29
West
Schweitzer
Idaho
60
40
West
Brundage
Idaho
79
21
West
Big Sky
Montana
78
22
West
Red Lodge
Montana
61
39
West
Whitefish
Montana
64
36
West
Montana
Snowbowl
Montana
45
55
West
Bridger Bowl
Montana
71
29
West
Heavenly
Nevada
54
46
West
Mt. Rose
Nevada
64
36
West
Diamond Peak
Nevada
73
27
West
Taos
New Mexico
70
30
West
Angel Fire
New Mexico
49
51
West
Mt. Bachelor
Oregon
45
55
West
Mt. Hood
Meadows
Oregon
52
48
West
Mt. Hood
Skibowl
Oregon
45
55
West
Terry Peak
South Dakota
48
52
West
Brighton
Utah
44
56
West
Park City
Utah
66
34
West
Canyons
Utah
61
39
West
Snowbird
Utah
68
32
West
Snowbasin
Utah
70
30
West
Powder Mtn
Utah
58
42
West
Brian Head
Utah
31
69
West
Mission Ridge
Washington
70
30
West
Mt. Baker
Washington
43
57
West
Crystal
Washington
70
30
West
Summit at
Snoqualmie
Washington
64
36
West
Jackson Hole
Wyoming
69
31
West
Grand Targhee
Wyoming
70
30
West