By Roger Lohr, special to GraysOnTrays.com
The ski areas don't really want to hear about people snowboarding by themselves because they like the multiplier afforded by groups and families. At the risk of being called a loner, anti-social, or a follower of the British punk band the Anti-NoWhere League — if Billy Idol can produce a hit such as Dancing With Myself, I can surely admit that I like going SNOWBOARDING BY MYSELF. Self-centered? You betcha!
Don't get me wrong. I've turned my kids on to snowboarding and while they lived at home we went on many a family trip and joined other families on scores of winter weekend getaways. As I get older, I really love riding with the kids above all else. But one of the things that I'm most proud of is that my kids have emulated their dad's laser-sharp focus on getting on the slopes. Yeah, that includes changing clothes and booting-up in the car!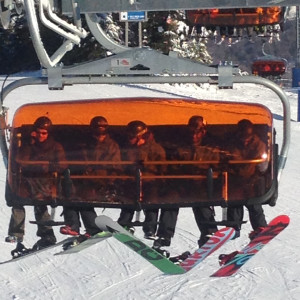 Now regarding going to the slopes by myself, one of the key issues is avoiding the negotiations about the time to leave for the slopes, meeting up, when or if to stop for some food or drink, when to go home, etc. Sometimes, I decide in the morning on a given day that it is just right to be out there snowboarding and within 20 minutes I'm in the car and off to the mountain. It just doesn't take much time to don the base layer (long johns to you traditionalists), put in the eye contacts, grab the accessories bag, boots, board, jacket/pants and car keys.
Of course, I must disclose that going snowboarding might mean only a 10-minute drive to the closest ski area but it also could be an hour or two to a further destination that has better snow conditions. I also admit that sometimes I like my favorite mountains because they have easier runs or a better lunch selection. Being a writer allows me the flexibility to go snowboarding during the week … or any day for that matter. When I go snowboarding with someone else, all of these issues become a group decision.
Getting to the ski area, I get on the chair lift pretty quickly after changing in the car, getting the lift ticket, and hopping on to the lift. There is no waiting for any acquaintance with their idiosyncratic snow sport rituals. I've streamlined my rituals and I'm happy to defend them.
Always open to meeting people on the chairlift, I'm willing to put my music on pause to have a conversation about anything. Some days I don't meet anyone willing to chat and there are other days when I meet someone whom I'll join to do some runs. There's also the rare occasion when I'll befriend the person that I meet on the chairlift. But much more often, I ride the lift listening to my own tunes, selecting the desired runs, and navigating the mountain as I wish.
Based on a momentary whim, I do some warm-up runs, cruise some easy runs, drop in on an occasional dash into the glades, turn on the jets on the groomers, pursue powder stashes, and so on. No discussions, no concerns about the partner's prowess, boredom, or whether he/she needs to hit the head. There's no guilt about how much I'm getting for the value of the lift ticket. There's no worry about bailing because that day's snow or weather conditions are not conducive to having a lot of fun. I like riding in a snowstorm for the freshest powder, or doing runs in the spring time mush, and there's no concern that perhaps I drove an hour to ride only three runs and decided to leave because I wasn't feeling it.
Yeah, I like snowboarding by myself.
Roger Lohr is the editor-in-chief of XCSkiResorts.com. This article was first published by The White Book of Ski Areas and is used with permission.